Fake Diplomas with Embossed Text & Raised Seals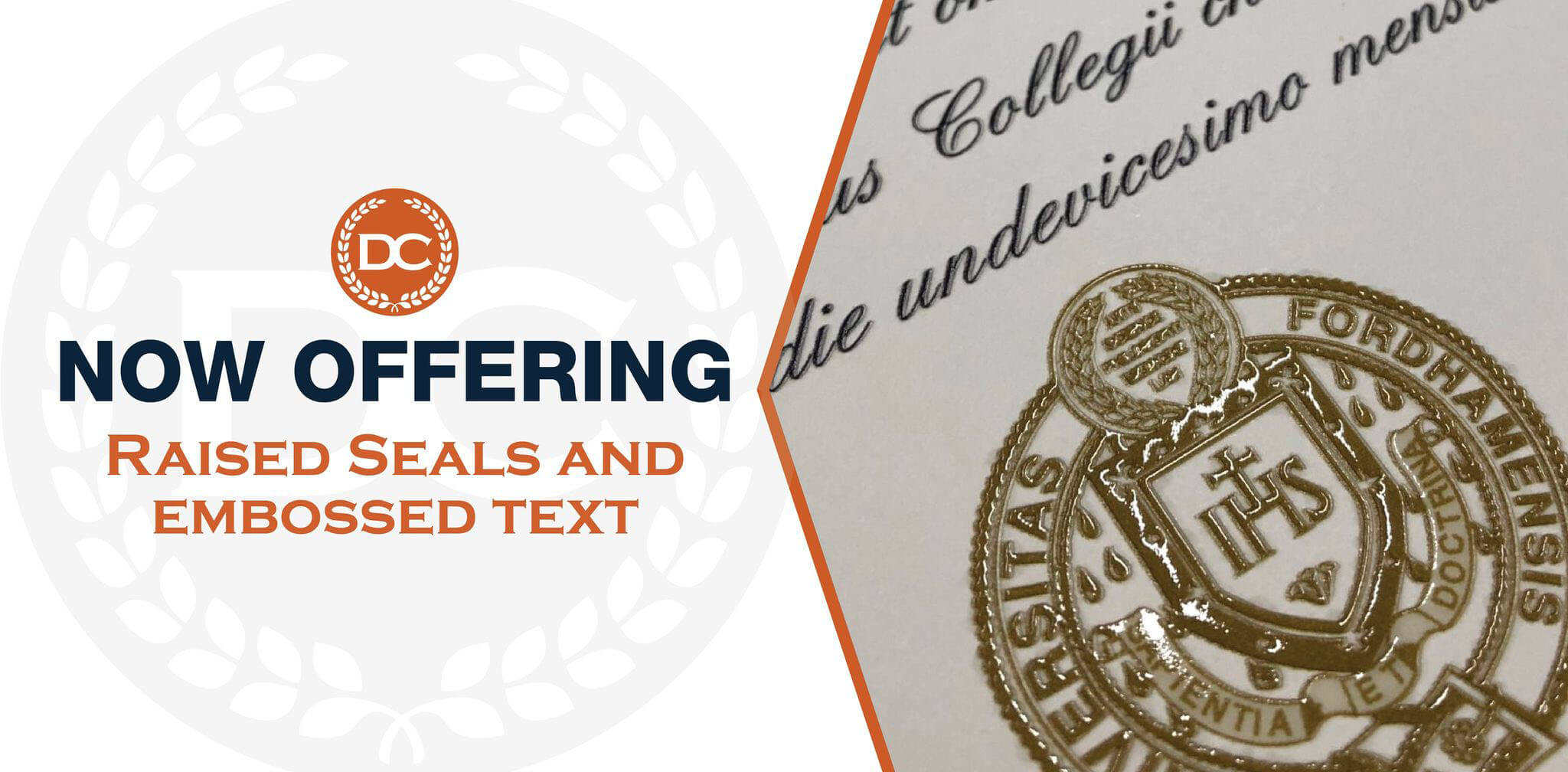 Now Offering Raised Seals and Emblems Plus Embossed Text on Custom Diplomas and Certificates this !
Now offering actual embossed text and really raised seals and logos on
, , and more!
Will amaze you to see in person! Rub your fingers and feel the document come to life! No other print shop can do this!
If you have an order currently in the production phase this and forgot to add raised print services to your order at the time of purchase, this the page to be! If you haven't ordered yet, you can request raised print services when purchasing any one of our custom diplomas or certificates at DiplomaCompany.com.
On the order form, confirm your order# and name so we can make sure the raised print service are applied to your active order.
Imagine rubbing your fingers over a fake diploma and feeling the images come off the page!
Diploma Company is pleased to offer actual raised seals and emblems for their line of custom printed novelty diplomas. These are printed seals that you can rub your finger over and feel come alive and off the paper! This is the highest quality printing technique made available on any supplier's website to this day.
Why do your raised and embossed seals and text compare to other diploma print shops?
Most other sites use a process which involves taking powder ink and laying it over a printed seal. The seal then is heated which causes the powder to melt and then harden into a solid form. In theory this does give the look and feel of a raised seal because the ink hardens and comes off the page. The problem is, the powder can often dry in clumps causing the seal to look distorted and hard to make out.
Diploma Company use a more advanced printing technique for it's raised seals. We use additive manufacturing to build up elements layer by layer. This ensues a more precise, professional printed, raised seal that comes off the page and can shock anybody with it's realism.
Can your raised seals or logos on diplomas be very detailed?
Absolutely! This is because DiplomaCompany.com does not use stamps and embossing powders to create embossed elements. This method is what a lot of competitors do us because it is very cost effective. Instead we print our raised elements directly onto the document itself. This means that we can raise any feature of the document including all text, every area of the seal, etc.
If you would like to add raised print services to your custom document order, you can do so below. Services are also available at the time of your initial order. If you need help, our staff is here M-F 10AM-6PM CST to answer any questions about this unique feature of our print shop. We can be reached via phone at 866-687-5403 or by live chat during our hours of operation.
See Our Custom Raised/Embossed Seal Services Below!