Fake College and University Transcripts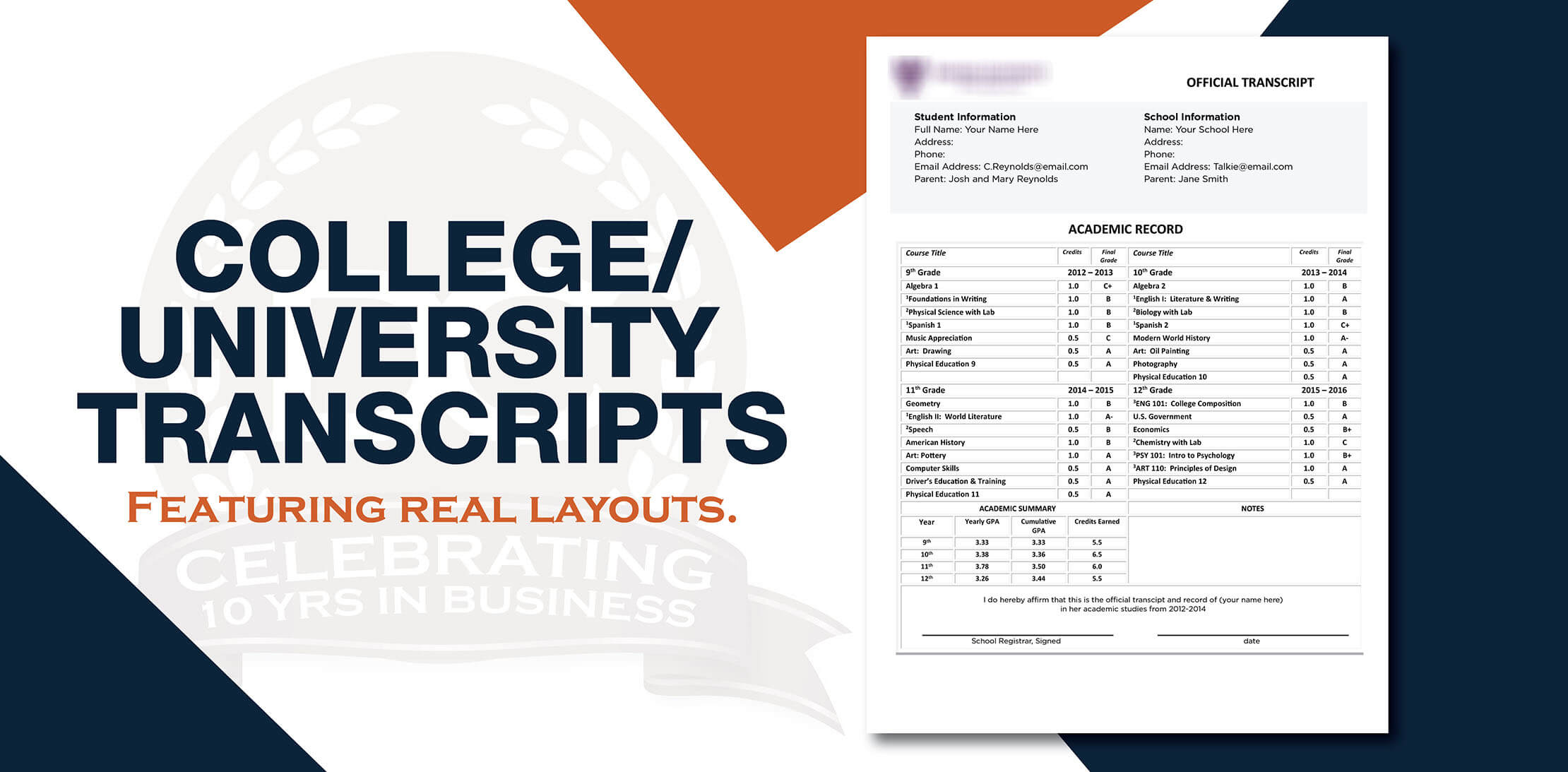 Features Coursework for Graduate and Undergraduate Degree and Majors!
---
Our realistic college transcripts are 100% custom-made, printed premium security paper (like real ones), registrar embossed, and signed. Features college and university courses for a wide variety of majors. Adjusted grade averages and graduation dates to add to the realism. Get fake college transcripts, backed by our risk-free guarantee, from ever corner of the world today!
Complete Associate, Bachelor, Master Sets and More!
Custom Markings and Scores! Embossed by Hand and Signed!
---
Shop fake college transcripts that are printed on COPY/VOID security paper like real ones! Registrar embossed stamp, hand-signed, and self-destruct security holograms are just a few features! Amazing quality!
Transcript coursework is common to college and university classes from institutes all over The world! Our database of courses for a
like "Social Studies" and "Language Arts" is updated often! There are recent adjustments made as of this ! Very detailed class list!
Get delivery by Apr 07! You can also request a same-day digital copy when ordering. Faster delivery methods, may be available at checkout!
Get a proof our work ... for free! An option to check our work over before it leaves our shop, is available when making your purchase. Plus, like with all
, services are backed by our unmatched risk-free guarantee! There is no reason to worry when taking a chance on us.
Fool a friend! Boost your esteem! The most realistic college and university transcripts you'll find this !
How to Buy Fake Transcripts from Colleges & Universities
---
Choose a college or university transcript option.

We make transcripts from schools all over the world. This includes colleges in the USA, Norway, Netherlands. Universities in Canada, Australia, etc.

Fill in order details on the product page.

Name of School


Confirm the college or university. This is important is are multiple campuses under similar names.

Student Name
Date of Passing

This showcases the date of graduation. Often this is in the Spring but can vary country to country. If unsure, say so in the form, and our design team will clarify.

Add item your cart.

Here you will state where you want it shipped, how you want to pay , etc.

Submit Order

Once an order number is assigned, our design team gets to work. We look at your request, gather coursework for the degree you want, the proper paper, and get to work.
If you want to proof our work, we can offer this to you. After your approval or no proof, the transcript is packed up for transit.
Final order is printed on proper security paper and stamped and embossed, if necessary, to provide a realistic final transcript.

After Arrival

Remember, you have an unmatched 90 days to spot issues. We back our work with an impressive risk-free guarantee. Order in confidence today.