How legit is the coursework featured on custom transcripts?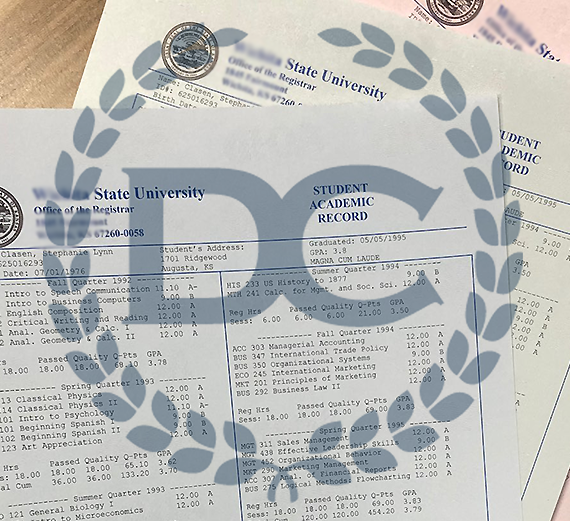 Our production department stocks standard coursework for a variety of degree and majors. This list may not match specific classes taken at particular high schools, universities or colleges. Instead, it is common classes that relate to your specific area of study. In most cases, customers find this list acceptable since the classes match close enough. An example of differences maybe us writing "English 101" and a school calling the same course "English Intro". We have been selling these documents for years, and they have a 99.3% approval rating as a whole. We are confident to say you will be happy with our standard transcripts as we produce them.
If this bothers you, are you are more than welcome to request "custom coursework". With this, you will provide the coursework you want displayed on your transcript. You can be as precise as you'd like. You can provide us classes and let us choose the grades and order of them, or you can provide classes, scores and the order. More details about our custom coursework for transcripts option is available on specific product pages where we sell transcripts.
What kind of transcript paper do you use?
We use specially ordered "Official Document" security paper for most orders. Similar paper is used by many popular universities, colleges, high schools, and testing centers! The highlights of this paper include:
When photocopied the words "COPY" appear - exactly like a real academic transcript!
Tamper Proof Holograms ** Look Below **
Standard or custom coursework options
A watermarked logo in background*
"Grading Key" on back
What graduation or passing date should I use?
Graduate dates often change depending on the type of degree. For fake transcripts from ged testing centers there really is no proper date because in most cases tests are taken all year. When it comes to fake transcripts from high schools, the graduations are usually late May, in most cases. For our fake transcripts from colleges and universities, we recommend a graduation in May or June. If you are unsure of what graduation day to use, leave this field blank on the order form. Later we can research the best graduation dates and fill this part in on your behalf.
Can you add a "transcript key" to the back of my transcript?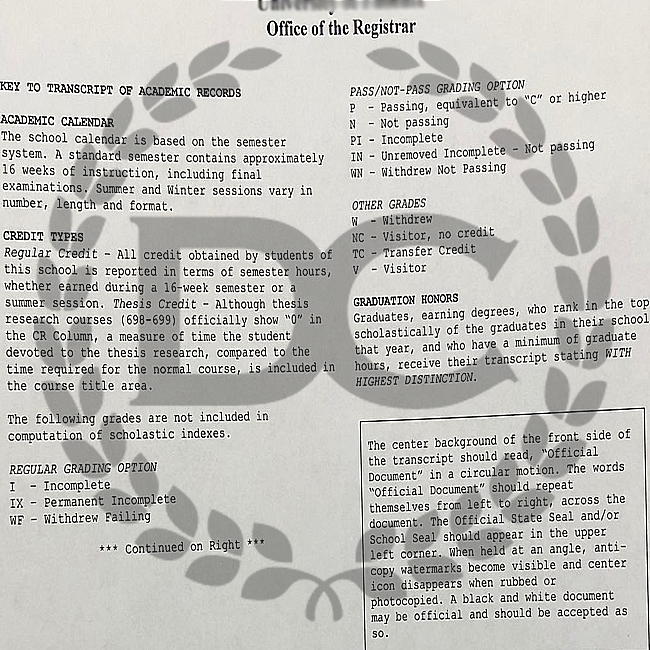 A key lists important transcript details including how to read grades, understand symbols, course numbers, transcript terminology, etc. We often add a transcript key to all high school and college transcript requests. This is printed on the back of the security paper but can be removed by request.
Do you emboss your transcripts?
Yes. All of our transcripts are embossed with a stamp that reads "official records". Often when you request transcripts from a school, they are embossed. To make ours look legit, we emboss our transcripts also. This is one of the many add-ons that help make these transcripts a popular hit with our customers.
The process for embossing is applied using discs that have logos engraved into them. These discs will indent the document, applying the registrar stamp to it.
What if I need a particular field of study on my transcripts?
Like we said before, we stock coursework for many popular degrees. If you have a degree that you feel is extremely uncommon, you may want to contact us first. You could also upgrade to custom coursework. We are pretty much willing to print any type of degree you wish with the exception of law and medical degrees. This regulation applies to both diplomas and transcripts. Diploma Company will not print those types of degrees under any circumstance.
What if I have more questions about transcript options?
Our staff will gladly answer any questions or concerns. Please give us a call at +61-280155665 or message us over chat.